Introduction of corn stalk pellet machine
Advantages of using corn pellet machine
Scientific and reasonable design, simple, low noise, occupies less space.
Dry in and dry out, easy to form, with high yield and low energy consumption.
High forming rate. Pellets that produced have smooth surfaces and hardness bodies, easy to store and transport.
Equipped with variety size of die aperture from Ø1.5 to Ø20 to adapt to different materials granulation and achieve the best results.
Adapt to different materials, ensure the pelletize effect.
Operation and maintenance is simple, safe and reliable.
Adaptable to most workplaces.
Whole body casting, rigid and stable performance, beautiful appearance, long service life.
Working principle of corn stalk pellet machine
The flat-die pellet machine is mainly used for the production of feed pellets, the yield is small. The feed pellets are adapted to the livestock feed, so that the feed intake of the livestock is greatly increased and the growth of livestock is also accelerated. It is widely used in small and medium-sized aquaculture or feed processing.
Vertical ring-type pellet machine is mainly used for corn stalk fuel pellet production. It has the characteristic of large output and pellets with high density. Pellets fuel are widely used in coal and gas alternatives, such as biomass fuel boilers, biomass power stations, hospitals, household fireplaces. Therefore, the user needs to choose the appropriate granulation equipment according to the finished product yield and usage

.
Characteristics of corn stalk pellet machine
Corn stalk or pasture broken by hammer mill first, stalks and pastures at high temperature and under high pressure will release the scent and sweetness of grass. Crude fiber through the processes of high temperature and pressure to get refined, the crude protein content increased by 6%, and the gelatinized lignin lead to the increase of water-soluble sugar. These make nutrients easy to digest and absorb than cut the corn stalk directly, and digestibility increased by 25%. Turn corn stalk or pasture into pellet increases the palatability of ruminants. The feed intake is up to 100% and saves forage grass.
Corn stalk or pasture through high temperature and pressure kills virus and germs, reducing the probability of livestock disease. The scattered stalk or grass into compressed biscuits to feed cattle and sheep. It can be fed directly or spray water on 10 minutes in advance, feed after expansion.
Corn stalk pellet feed can be stored 1-3 years. As the volume is reduced, storage space is also reducing, and makes the transportation convenient. It has fireproof and other characteristics. All these characteristics help to reduce management costs.
Corn stalk pellet feed achieved a revolution in the history of grass industry. As a commodity goes into millions of households, provide adequate forage assurance for the sustainable development of aquaculture. Provide the main forage source and reduce the amount of concentrate feed for the "closed herding" and "disaster preservation". Scientific management, scientific farming (regular, grass-setting, fixed material), reduce labor and reduce farming costs is guaranteed.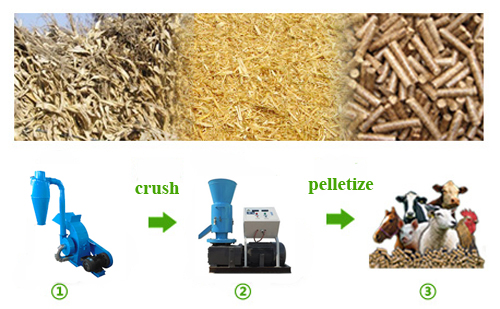 Why choose TICO corn stalk pellet machine
Uniform production of raw material, smooth surfaces, and the production increased by 50%
Pellets processed by this pellet machine have smooth surface, not easy to break and highly cooked. Improved nutritive quality of feed,easy digestion and absorption. Easy for storage and transportation.
TICO corn stalk pellet machine has characteristics of user-friendly design, less storage space, low noise. Equipped with emergency button makes operation simple and secure.
TICO corn stalk pellet machine can be customized according to customer needs
TICO is a manufacturer of direct sales, no middlemen exist. Our products have low prices and good qualities. All products will be installed, debugged and packed before shipment.
TICO provide plastic waterproof packaging before delivery.
Finally, before delivery for the small pellet machine will put on all-wood packaging, the entire wooden box will ensure the safety of the pellet machine and keep it away from any damage until reach the destination.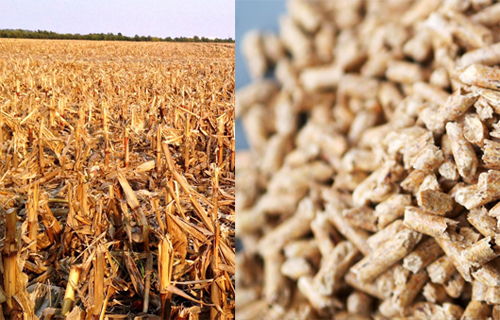 Corn stalk pellet machine is a kind of biomass pellet machine, which is a hot corn stalk deep processing project at present, and can be used for the production of fuel pellets and feed pellets. How much is a corn pellet machine? Different models have different prices (flat die pellet machine price is low, ring die pellet machine price is high, so the price range is large). Call us to get the specific price and product details, we have professional sales staff to answer your questions.