What is R-type electric motor pellet machine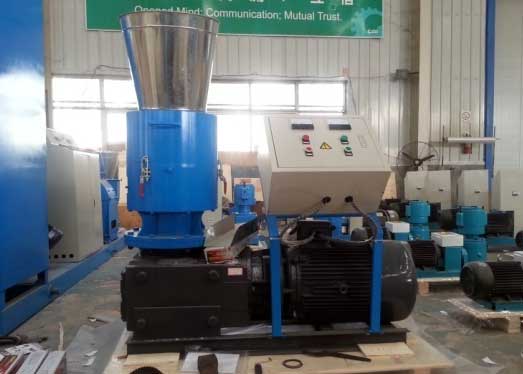 Just as we have talked about D-type electric motor pellet machine, R-type electric wood pellets machine is another type of electric driven pellet machine. It also needs 3 phase electric.
Rotating roller electric wood pellet machine consists of rotating rollers and a stationary die, which can make the service life of die longer 2,000 hours than the formerly mentioned design. it is the pro version of D-type. And it specially designed for hardwood as the raw materials, such as oak, birch, cypress, elm tree, basswood, cherry, larch, maple, poplar, etc. and the mixed material. The capacity ranges from 80-800 kg/h, which makes it suitable for industrial use. Besides, it is capable of producing longer wood pellets, including those over 3 cm in length. The rotating roller electric pellet machine is specialized in the production of both home and industrial biomass fuel. It is able to make pellets out of diverse materials such as sawdust, straw, chaff, bamboo shavings, peanut shells, bagasse and alfalfa.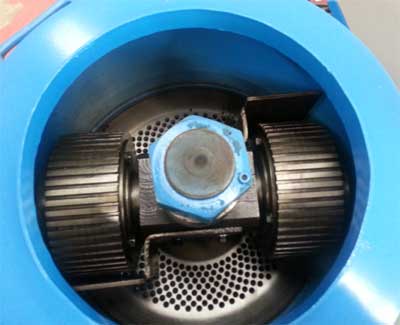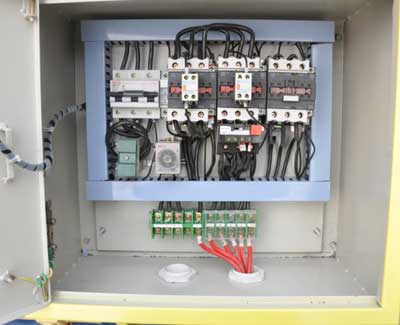 Working principle of R-type electric motor pellet machine
The biggest difference between D-type electric motor pellet machine and R-type electric motor pellet machine is that when pelletizing, R-type electric motor pellet machine is the roller rotating and the flat die is stationary, then through the friction between rotating roller and stationary flat die, the raw materials are pressed into flat die holes, and emerged from the bottom of the flat die, then be cut into the proper length by the blade.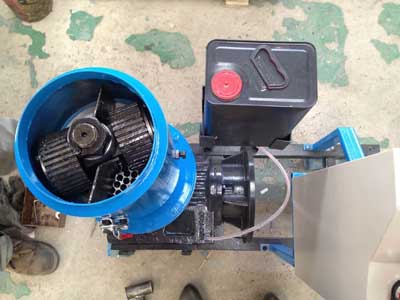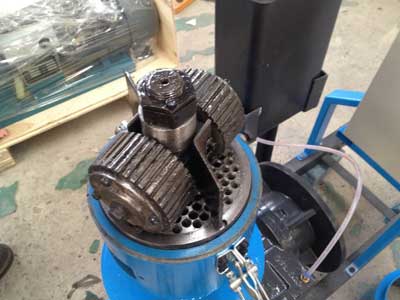 Advantages of TICO R-type electric motor wood pellet machine
All the electric motor is CE, BV approved and can meet EU standards.
The gearbox adopts full steel and high quality reducer and the noise is lower during operation.
High output, low energy consumption, low noise, low malfunction, the machine can be continuous production, and economic durable.
Movable pellet making machine with motor, it can work very well anywhere you want, so much convenience!
Simple automatic operation, low energy consumption and less manpower.
The final pellets have uniform size, hard and smooth. Its fluidity and solubility are good, the intensity and heat value of products is high.
Technical parameter of R-type electric motor pellet machine
| Model Number | Power(kw) | Output (kg/h) | N.W./G.W.(kg) | Package Size(mm) |
| --- | --- | --- | --- | --- |
| ZLSP200B | 3phase,7.5 | 80-120 | 215/245 | 950*450*1050 |
| ZLSP300B | 3phase,22 | 250-350 | 540/575 | 1350*750*1440 |
| ZLSP400B | 3phase,30 | 350-450 | 770/810 | 1400*800*1450 |
| ZLSP550B | 3phase,55 | 500-800 | 780/820 | 2300*750*1850 |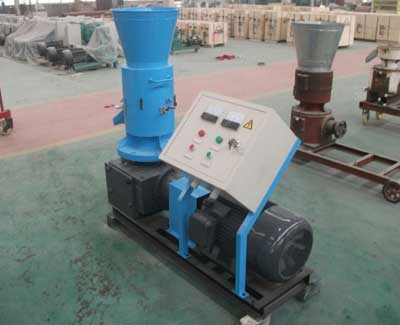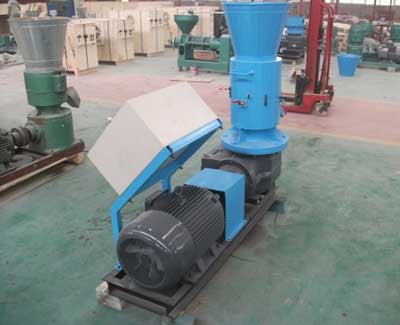 How to Identify the Quality of Biomass Pellets?
We'd like to use the methods in traditional Chinese medicine to judge biomass pellets quality.
See: It means to observe pellets color, glossiness, purity and the ash left after burning. Good quality pellets have high glossiness, while garbage pellets do not shine. The color of wood pellets or stalk pellets is always light yellow or brown, while garbage pellets are black. Purity means the pellet forming conditions. The better forming conditions there are, the longer pellets will be, and less broken is. The less ash left after burning means the more purified pellets are. The ash content of pure wood pellets is just 1%, which is the least among biomass pellets. Stalk pellets have higher ash content, while garbage pellets have the highest ash content, which is 30%. Besides, to decrease production cost, some manufacturers even add lime or talcum powder in the raw material. Such kind of pellets ash will be white after burning.
Smell: The biomass pellets manufacturing in fact does not need any binder or additive, so most pellets will remain the smell of its raw material. For example, wood pellets have the smell of natural wood; stalk pellets have the smell of stalk, while garbage pellets have unpleasant smell.
Touch: Means to touch the pellets by your hand and feel about them. if the pellets are smooth hard and no cracks, such kind of pellets are good; if they are not smooth, have cracks and can break easily when squeezed by 2 fingers, such pellets are not good.
How does the wood pellet work?
Raw material processing: this may include debarker, wood chipper, screener, and hammer mill, dryer. These 5 machines are usually necessary in large wood pellet plant, while hammer mill and dryer are the most frequently used in small wood pellet plant.
Pelletizing: the raw material after processed is delivered by conveyor into wood pellet mill. at this stage, loose wood powder is pressed into dense solid pellets.
Wood pellets cooling and packing: the pellet cooler will decrease wood pellets temperature and also screen out broken ones to remain high quality wood pellets.
The raw material for biomass pellets making varies from wood sawdust, stalk, peanut shell, cotton stalk, corn stalk and straw, to household garbage. While wood pellets have the highest combustion value, then are stalk pellets, and household garbage pellets are the worst.