Introduction of small mobile pellet plant
This MPL 300 small pellet plant is specially designed for biomass pellets. This is an integrated system with pellet mill and other supporting equipments. The small pellet plant is an all-in-one unit being highly efficient for making biomass pellets, wood pellets, and animal feed pellets, enjoying a wide application range for the raw materials, including logs, saw dust, wood shavings, crop straw, mixed feed, etc.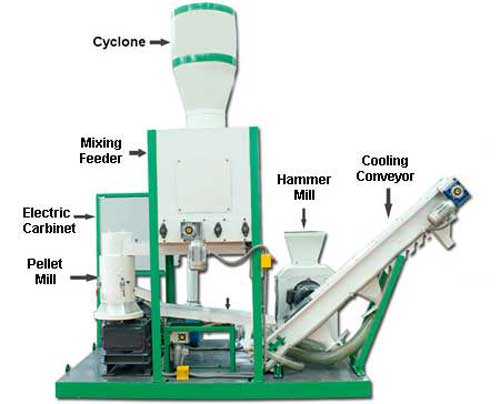 With a sophisticated structure design, the necessary processing equipments for making pellets are arranged in one single complete small pellet plant, primarily consisting of hammer mill, cyclone separator, bin, screw conveyor, pellet mill, vibrating screen, scraper conveyor, electric cabinet, and foundation frame. The small pellet plant integrates the processing functions of crushing, pelletizing, cooling, transporting, etc into one complete pellet plant, improving working efficiency remarkably and lowering your wood pellets production cost.
Specifications of Small Multifunctional Mobile Pellet Plant
| Model | Capacity(kg/h) | Pellet Diameter(mm) | Power(kw) | Size(mm) |
| --- | --- | --- | --- | --- |
| MPL300 | 250-350 | 6-12 | 41.25 | 3500*1960*3500 |
| MPL400 | 350-450 | 6-12 | 49.25 | 3500*1960*3500 |
One operator can manage the operation of the small pellet plant by simply adjusting the operation buttons, lowering your labor cost efficiently.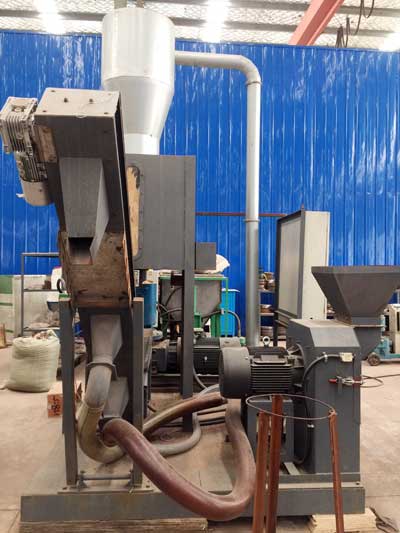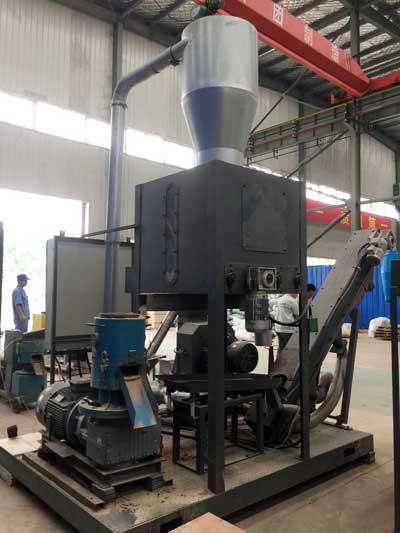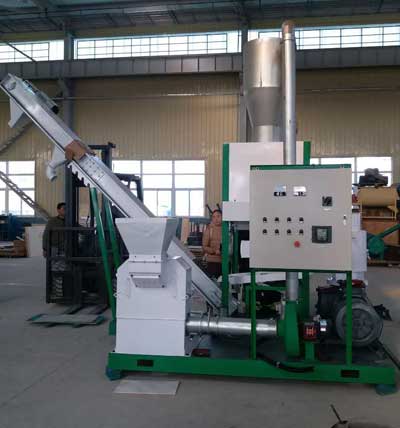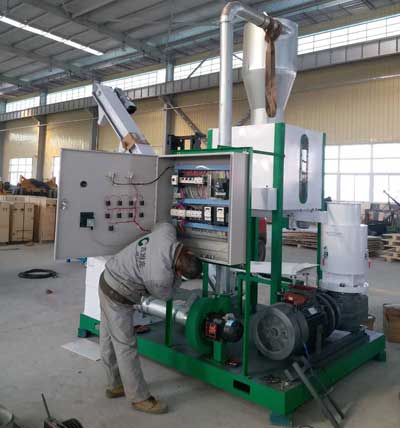 Ⅰ. Crushing System
Hammer Mill:
It's with 15 hammer blades, by changing the different position of the blades, it's suitable for crushing woody or biomass or forage material with size less than 20 mm (diameter), the size of the output crushed material can reach diameter 3-5mm.
Pneumatic Conveying Unit:
This unit includes one 2.2kw air blower, wind pipeline and cyclone separator. It will transport the crushed material into bin for mixing and storage. It's connected with vibrating screen and bucket conveyor with semitransparent soft pipes to cool the pellets, and collect the powder and dust.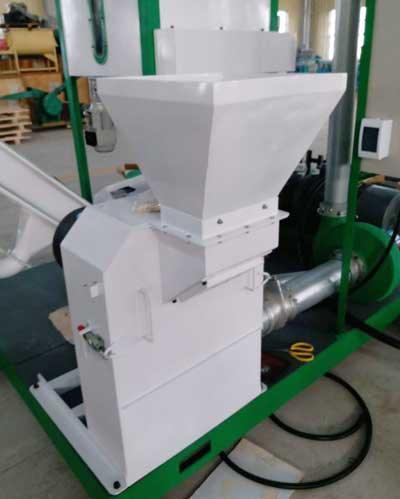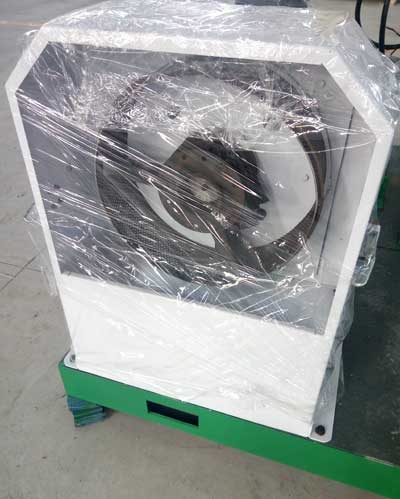 Ⅱ. Material Mixing, Storage & Conveying Section
Material Mixing, Storage Bin:
It's with 1m³ volume, its shell is made of 2.5 mm steel plate. There are two portholes on both sides for monitoring and observation. Four paddle type mixers is driven by one 0.75 KW motor. The highest material level for this bin is at 800 mm from the bottom.
The input port for mixed material is at the bottom of the bin. It's 112 mm in diameter, 1023 mm long. It is to feed the mixed material into the pellet mill, and is driven by frequency conversion speed controlled motor, 0.18 KW, frequency conversion range is 30~60 Hz.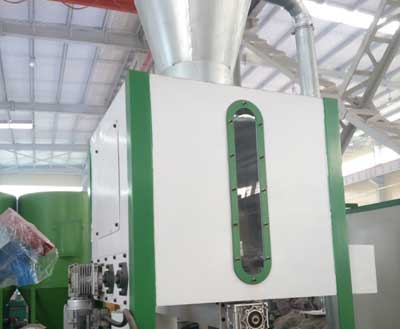 Storage Bin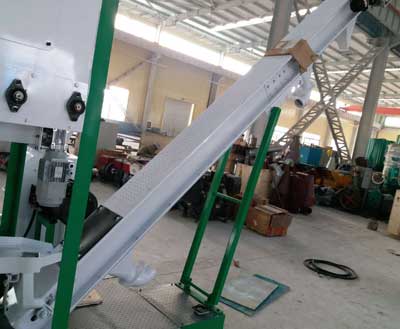 Screw Conveyor
Ⅲ. Pelletizing Section
This ZLSP R-type pellet machine makes 0.4 ton wood pellets per hour by using pure sawdust. It is the most impotant equipment in the small pellet plant. The water adding system is connected and available to adjust the moisture content of the mixed material. We can make 6-12 mm pellets (diam.).
Water Tank
This tank can carry 100 L water. The water pump is at 24V, capacity : 5L/min, water discharge pressure: 8.5kg, flow meter capacity: 0.2-2GPM.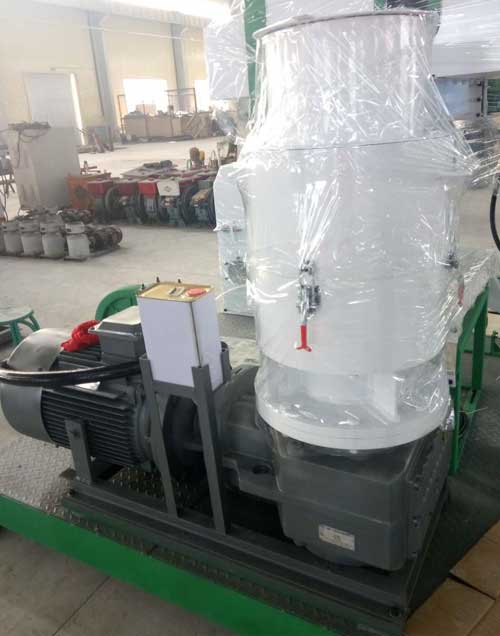 Ⅳ. Sieving & Pellet Conveying Section
Vibrating sieve:
3.5*3.5 mm Mesh, with 0.37 KW power. The size of the mesh can be changed according to your requirements. One φ45 mm soft pipes is connect to collect the powder and dust.
Scraper conveyor
It's driven by chain, the scraper size is at 145 mm. The size for single section is 2436*437*484 mm. The length and height of this conveyor can be extended by adding and connecting one extra section. There are five positioning joints at the end of the conveyor, you can adjust the height and angle of the conveyor easily. Two φ100 mm soft pipes is connect to cool the pellets.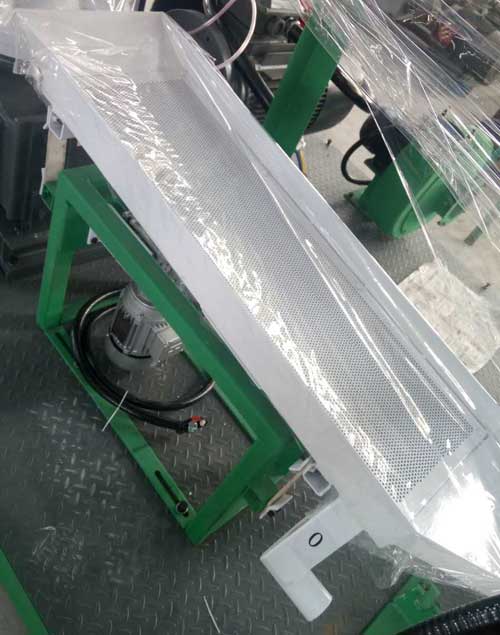 V. Auxiliary Equipments
Steel structure ABS:
With Anti-skidding steel floor
MCC control centre
The electronic components in this system are made by Schneider Electric with international standard. The manual operation control system is adopted. You can easy control this plant according to your demands. Two frequency converters are used to control the speed of the Screw Conveyer and Scraper Conveyor. The control cabinet is with dust prevention. The emergency stop and smart power lock is adopted.
Schnerider Electric components
By using this small biomass pellet production line, you can make your own pellets with only a little man power. Also because of its compact size, it only needs a small space to place. With the adopted advanced technology, this biomass pellet plant is popular among its users in many countries. We believe it will generate excellent result for you.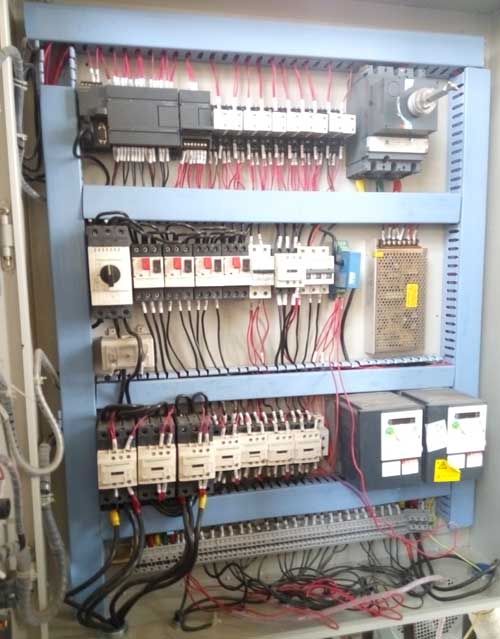 Special features of small pellet plant:
The gear of gear box uses high quality alloy steel treated by hardening process (carburizing and quenching). All the gears are made by accurate and precise fabrication procedure.
Steady transmission, low noise, big bearing capacity, low rising rate in temperature and long life.
The main shaft is allocated with heavy load thrust bearing which can bear stronger axial force, and has longer service life.
Use big diameter roller to produce in higher capacity, higher pelletizing rate. The pellets are uniform and with much hardened surface and higher density.
The professional wear-resistant process is made on the roller and flat die, and both sides of flat can be used to extend the use life.
All of bearings use fully sealed structure to prevent dust; extends the service life of bearings.