Introduction of diesel pellet mill:
Diesel pellet mill is widely used for making pellets by people who have trouble in getting electricity ,especially in rural areas or in the fields or electricity is expensive. It is also your best choice to use on farm or field to make your own wood pellets. With the characteristics of small volume, light weight, simple operation, diesel pellet mill can be used for making pellets at home. Besides, using diesel oil also can decrease the production cost. TICO diesel pellet machine has 12months warranty (exclude wearing parts).
There are two types of diesel pellet mill, namely, D-type diesel pellet mill and R-type diesel pellet mill.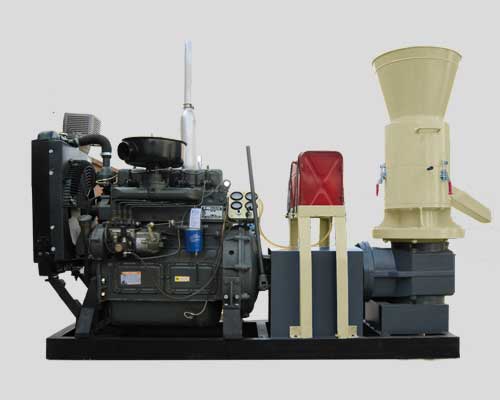 R-type diesel pellet mill
R-type diesel pellet mill refers to the roller-turned diesel pellet mill. It consists of clutch assembly, gear box, main spindle box, roller, die, upper body, feeder, diesel engine and base. It has a series of rotating rollers and a stationary die. When making pellets, the rollers are rotating while the die is stationary. Then raw materials are put into the holes in the die due to the great force between the rollers and the flat die, then pellets are produced.
The final pellet made by roller-turned diesel pellet mill has higher density and smoother surface compared with that made by the die-turned pellet mill.
R type is pro version pellet mill which has a smarter die and roller movement profile and is using a superb gearbox. Better function, higher price. R type is the right choice for clients who has a strict requirements and flexible budget
R-type diesel pellet machine has better performance for hardwood like beech, birch cypress, elm tree, hickory, oak, etc. than D-type. It can make sawdust pellets with better quality, higher density and smoother surface, and all its parts are better than D-type but also with higher price. It is often good choice for people who want to make pellets for sale.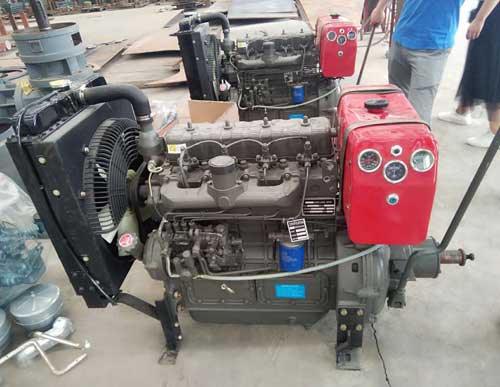 Characteristics of R type diesel pellet machine
R-type diesel pellet machine is pro version pellet mill which has a smarter die and roller movement profile and is using a superb gearbox.
Wide range of raw materials. Any kinds of raw materials can be processed, no matter it is soft or hard.
Multi stage gear transmission, high quality alloy steel gear, whose surface is treated by carburizing and quenching. Through grinding and fine processing, the pellet mill has advantages of smooth transmission, low noise, large bearing capacity, low temperature rise, and long service life.
The spear parts are innovative. For example, the main shaft, roller shaft, main shaft bearing, and roller bearing all increase, which can bear the load double more than before.
High yield, high pellet formation rate, uniform pellet, Low noise.
By changing the flat die arrangement form, increase the contact area between flat die and roller, which greatly reduces the wear rate of flat die and improve the service life of the die.
All bearings of our diesel pellet press are sealed structure, effectively prevent dust from entering, improve the bearing working environment, extend the bearing life.
| MODEL | POWER | CAPACITY(kg/h) | WEIGHT(nw/gw) | PACKING(mm) |
| --- | --- | --- | --- | --- |
| ZLSP-R 200A | 15HP | 80-120 | 320/350 | 1460*950*1100 |
| ZLSP-R 300A | 41HP | 250-350 | 850/890 | 1100*700*2480 |
| ZLSP-R 400A | 55HP | 350-450 | 1010/1050 | 1300*800*2600 |

Flat Die & Roller Maintenance:
If there is slowdown in pellet production capacity, please check the gap between rollers and dies as well as roller shell wear.
Check the wear pattern of pellet die surface, you may find indications of poor feedstock distribution.
Probably the most important factor in die life is the setting and adjusting of the rollers. Usually the gap distance between die and rollers are within 0.1-0.5mm.
Depending on the amount and frequency of your pellet die changes, always try to start new rollers with new flat dies at the same time.
When placing a new die or roller, you should remember to polish them in advance. Pellet dies and rollers are cast by heat-treated technology which includes process of drilling, quenching etc, thus leading burrs in the pellet die holes and surface.
Before turning off pellet mill, you can mix some feedstock with oil and add them into pellet machine until the die mould is full of oil. This method can prolong working life of pellets dies and rollers.
This video is the process of TICO diesel engine pellet machine.