Pellet machine is widely used to produce pellets. What can pellets do? Mostly, pellets are wildly used in household heating, power generation and industrial production. Using pellets can take the place of burning coal and gas,which can not only save energy but also protect the enviorment. Pellets are also needed in large, medium and small livestock farms, poultry farms, aquaculture, food and feed processing plants, self-employed and small medium and large feed processing plants. Therefore, in the process of purchasing a pellet machine, we always have a variety of problems. Here is a summary answer to some most frequently asked questions in the pellet machine ranking.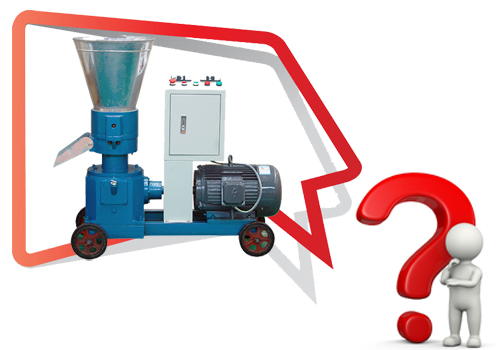 What's the capacity of your pellet machine?
The most frequently asked question is nothing more than the capacity of the pellet machine. Every type of pellet machine has their own capacity according to their working principle, size and so on.
Pellet machine is divided into ring die type and flat die type machine. Generally, ring die pellet machine is used in factories for large scale production, pellets that produced are always wood pellets for sale. The flat die pellet machine is mainly used for medium, small, home-size.
TICO is a professional pellet machine manufacturer mainly produce flat die pellet mill. Compared with ring die pellet mill, flat die pellet machine has the biggest advantage as following: simple operation, less space, low noise, low energy consumption and other advantages.
According to the driving force, flat die pellet machine can be divided into electric type, diesel type, gasoline type, PTO driven type. Depending on the difference of driving force of the machine, the output is naturally different.
The output of flat die type generally ranges from 60 to 800 kg/h and the ring die type ranges from 800t/h to1200t/h.
How much is a pellet machine?
In addition to production of pellet machine, the price is also the most important factor considered by many purchasers. According to the production needs, the general ring type machine is expensive, increase the cost of inputs virtually. The flat die type pellet machine is relatively cheaper. Take TICO's pellet machine, according to different production and driving force, the price is also different.
How about the quality?
TICO pellet machine passed the ISO quality management system certification, the EU CE safety certification. Some won the national patent certificate. Machines through durable menstrual test, access to agricultural machinery to promote agricultural appraisal certificate.
Advantages of TICO pellet machine
Gear box uses high-quality gray cast iron material, low noise, with good shock absorption.
Changed the structure of the traditional pellet machine design, the shell increases stiffener, and the thickness of castings also increase. Thereby greatly enhancing the strength of the machine and eliminate pellet machine shell fracture phenomenon.
Die and roller with high quality alloy steel, hardness can reach 55-60HRC.
The most suitable die processing hole structure, through a large number of experiments and get the core technology----the best die hole compression ratio.
Safe electronic control system, fully comply with the CE standard operating system, emergency stop button in the emergency case can shut down the machine quickly.
Because of the strict, standardized production and technical management, we ensure the consistency and interchangeability of all our machines and every part, and customers are more assured of choosing spare parts.
Which brand of pellet machine is better?
TICO pellet machine equipment has dozens of series, hundreds of specifications. Our equipment has excellent quality and a good reputation, the products sell well both at home and abroad.
What is your recommend pellet machine and which sales best?
ZLSP-S200B
and
ZLSP-S300B
are currently the most popular machines, products enjoy a good reputation.
What is the characteristic of pellet machine?
Simple structure, scientific and reasonable design, low noise, occupies less space.
Powder feed, grass powder without (or a little) liquid can be added for granulation. Therefore, the moisture content of pellet after pelletizing is almost the same to the moisture content of material before, makes pellets more conducive to storage.
Pellets processed by this pellet machine have smooth surface, not easy to break and highly cooked. Improved nutritive quality of feed,easy digestion and absorption. The degree of internal maturity is more adequate, can improve the digestion and absorption of nutrients, but also kill the general pathogenic microorganisms and parasites, suitable for feeding rabbits, fish, ducks and laboratory animals. get higher economic benefits than the mixed powder feed.
Equipped with variety size of die aperture from Ø1.5 to Ø20 to adapt to different materials granulation and achieve the best results.
Adapt to different materials and ensure suppression effect. Compression molding of sawdust, corn stalks and other materials needs a lot of pressure. Roller parts are the central components of the entire equipment, and the use of high-quality alloy steel can improve the service life of the roller.
How to use pellet machine for the first time?
For the first time using the new machine, follow the instructions strictly. Familiar with the instructions before operation. Use oil material to grind for about an hour to debug the new die which improves the service life of the machine.
What should we pay attention for daily operation?
Workers wearing tight overalls, do not wear gloves. Wear protective helmet and dust mask. Concentrate while operating.
Check oil level of reducation gear, pellet machine spindle bearing and pressure roller bearing.
Familiar with the working principle of the machine and the structure and function of each part.
Check the machine for debris, screws are loose, with a wrench to adjust the spindle nut locking.
Motor must be no-load start, and then put into use, the direction of inversion is prohibited.
The machine must be safely grounded and the main power must be disconnected before checking the machine.
Do you have a complete set of pellet machine?
Auxiliary equipments together with pellet machine are generally: hammer mill, conveyor, dryer, pellet cooler, etc. Our copmany not only sells the whole complete set but also provide after sell service as tracking the whole process, installation guide and so on.